Grilled peaches with burrata, prosciutto, pesto, pistachios, mint, & honey, also known as summer on a plate! Summer is in full swing and on days when it is too hot to cook but you are still craving something fresh and delicious, summer salads like this one are the way to go! Burrata cheese pairs wonderfully with sweet grilled peaches and prosciutto, making the most incredible summery combination of flavors.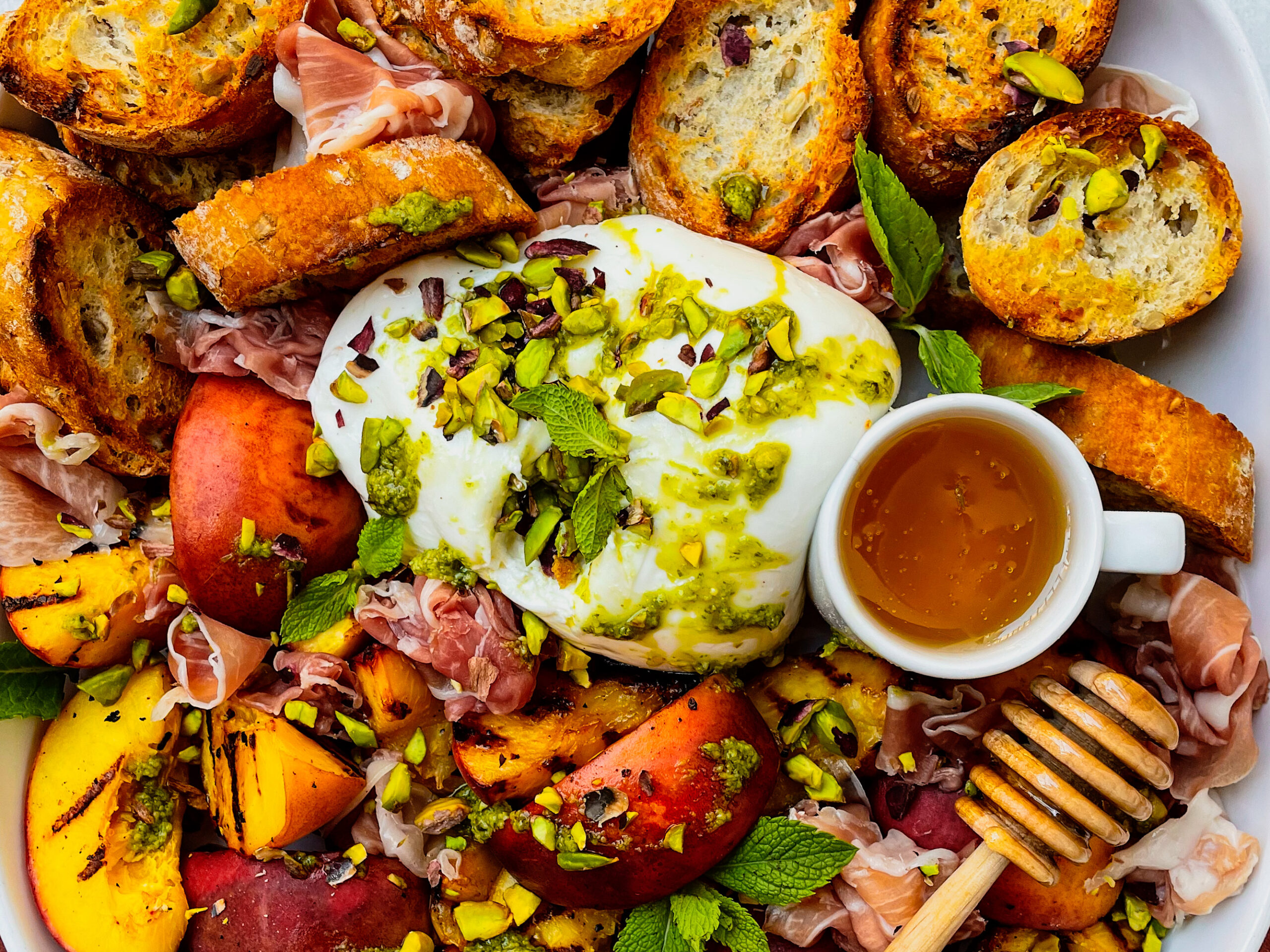 Burrata is a soft cheese originating from a small town in Puglia called Andria. Fresh mozzarella outer shell is filled with creamy stracciatella-or mozzarella shreds with cream-which results in a silky, creamy, delicious fresh cheese. Because of its creamy texture and delicate taste, it is perfect for pairing with fresh fruits in addition to savory options. 
This dish can be served as a salad with all of the ingredients mixed together, or on a serving platter or charcuterie board so diners can create their own perfect bite. 
Prep Time: 15 mins ~~~ Cook Time: 5 mins ~~~ Serving Size: 4-6 ppl 
Ingredients:
3-4 peaches

10 slices of prosciutto

1 baguette

One large burrata cheese

A few leaves of fresh mint and basil

A handful of pistachios

Spoonful of pesto

Drizzle of honey
Directions:
Slice the baguette. Drizzle a little olive oil on a grill or pan and toast the bread slices until golden & crispy. Remove from heat & set aside.

Slice the peaches into quarters and add to the grill (with a little more olive oil) and cook for about 2 min on each side or until grill marks appear and slightly caramelized. Remove from heat.

Time to plate! Add peaches, bread, and burrata to the plate. Tuck in prosciutto slices, and drizzle on your pesto, fresh mint, and chopped toasted pistachios. Finish with a drizzle of honey & voilà! Buon appetito!