Happy National Wine Day!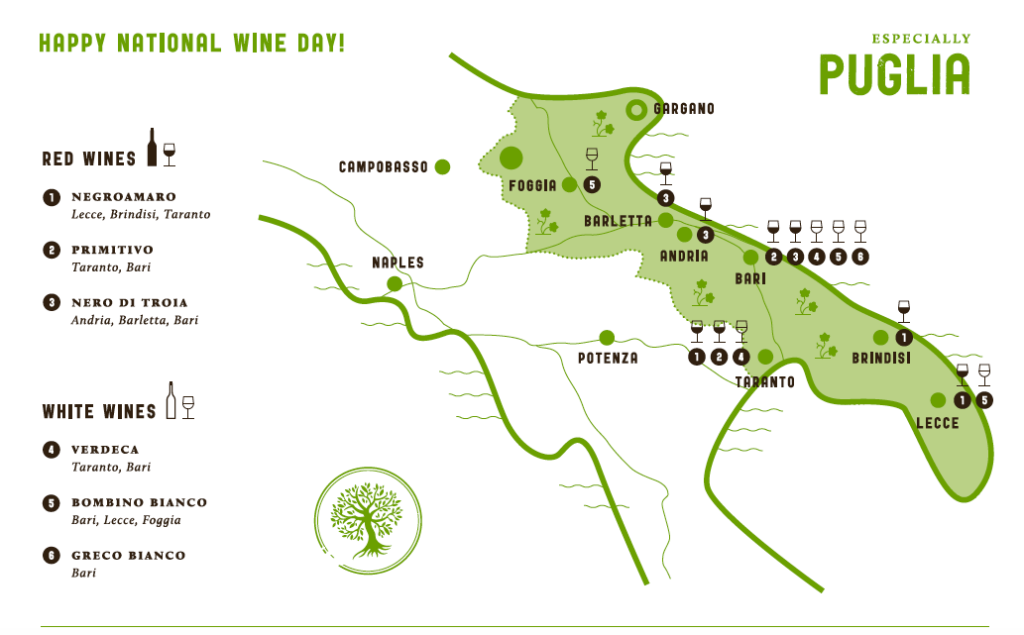 It's National Wine Day and we're here to guide you through Italy's 2nd largest wine producing region, Puglia of course!
The Terroir of Puglia
The regions richly fertile soils and beautiful climate make it a no-brainer as an option for growing grapes. Puglia has a relatively hot and dry climate that's tempered by cool breezes from the surrounding water, resulting in expressive and delicious wines. The incredibly diverse geography of the region produces wines that are endlessly varied in terroir. Puglia currently has 29 DOC and 4 DOCG wine regions, mostly concentrated in the Salento region at the very heel of Italy's boot.
Over the past few years, Puglia has gone through some major changes in the quality of their wines due to caring producers and new regulations. Once quantity focused, the region now has winemakers who want to show the world how amazing Apulian wines can be.
If you love Italian wines, this is definitely the region to keep your eyes on. Look no further than this list for a foundation in major Apulian vino! While this list isn't exhaustive as there are many grape varieties found in the region, these are the major grapes you will come across when you first dive into the beautiful world of Pugliese glou-glou!
RED WINE
Red wines are the bread and butter of Puglia, making up most of the region's wine. If you like fruit forward, full red wines then this is the region for you! And rosé fans? Many of these grapes make some of the best rosés in Italy as well!
Negroamaro
The name Negroamaro means "black bitter" in Italian. The grapes are in fact quite dark in color, and wines made from Negroamaro will typically have a distinct bitter profile. The grape is well suited to Puglia's climate with its thick skins and drought resistant nature. Many Apulian rosés are typically made from Negroamaro.
Wine Profile: Ruby-Violet in color. Aromas of red cherry, tobacco, and licorice that transition into black pepper, prune, and herbaceous notes with age. Flavors typically of ripe blackberry and tobacco. Full bodied with soft tannin. This wine is best between 3-7 years old but can be had with up to 10 years of age. It can be drunk at room temperature, but a slight chill is also pleasantly refreshing.
Food Pairing: lamb, grilled tuna, red sauces, spicy antipasti
Primitivo
Primitivo is the same grape as California Zinfandel. The name means "early ripening" in old Italian, a name true to its typically early harvest in August. The grape is less robust than Negramaro, being sensitive to drought, high temperatures, and frost. Primitivo has a naturally high sugar content and its wine was traditionally praised for its high alcohol content (it can reach upward to 18% ABV!). The intense aromatics have garnered Primitivo popularity in modern times.
Wine Profile: Aromas of sour and black cherry as well as raspberry. Taste is jammy black fruit with low acidity and moderate tannin as long as it sees a little barrel time.
Food Pairing: grilled meat and poultry, sausage, red sauce, strong cheeses
Nero di Troia
This black skinned grape is perfectly at home in the northern part of Puglia, especially Foggia and northern Bari. This late-ripening variety has two growing styles: large berry, tight cluster which is suitable for high yields, and small berry, loose cluster which is suited for high quality. The relatively high astringency of the grape makes it common in red blends.
Wine Profile: Aromas of cherry, violets, and tobacco. Taste is dry with medium acidity and variable, but typically high tannins.
Food Pairing: fava beans and chicory, rabbit ragu, grilled chicken
WHITE WINE
Though Puglia is most known for red wines that make up the majority of production in the area, one cannot ignore the beautiful white wines coming from the region as well. The hot and dry climate of Puglia produces crisp dry white wines made for easy drinking blends.
Verdeca
Verdeca is a white grape grown almost exclusively in Puglia but is slowly falling out of favor in the wine world. It is a very neutral flavored grape and historically was most commonly used in vermouth production. Now it is typically found in blends. But don't count Verdeca out! It's very easy drinking and refreshing with notes of citrus, pineapple, and bergamot.
Wine Profile: Color is straw yellow with a touch of green. It has a clean minerality that's almost flinty, with herbal and citrus notes. Due to acidity, drink young.
Food Pairing: clams, calamari, meat pastries, light cheeses
Bombino Bianco
Bombino Bianco is an easy growing, resistant grape varietal with high yields. Though typically blended with red grapes or used in sparkling wines, Bombino Bianco can be found in still wines on its own. Unlike many wine varieties, it is also used to make raisins.
Wine Profile: Color is lemon yellow with hints of pale green. This is a very neutral and subtle grape that can sometimes express soft citrus fruit and floral notes with touches of minerality.
Food Pairing: Marinated eel, shrimp, sweet potato fritters, roasted flounder
Greco Bianco
This grape reportedly has Greek origins and has an incredibly long history of over 2500 years. It is genetically similar to the variety Asprinio. The late maturing Greco Bianco is almost always used in a blend with other Apulian varieties, though a passito dessert wine called Greco di Bianco can also be made in Calabria.
Wine Profile: These wines are fresh and grapey with racing acidity. They have peachy, grassy aromas and a deep color. Though best young, they will develop more nutty aromas after a few years in the bottle.
Food Pairing: seafood pasta, pulled pork barbecue, caramel, walnuts