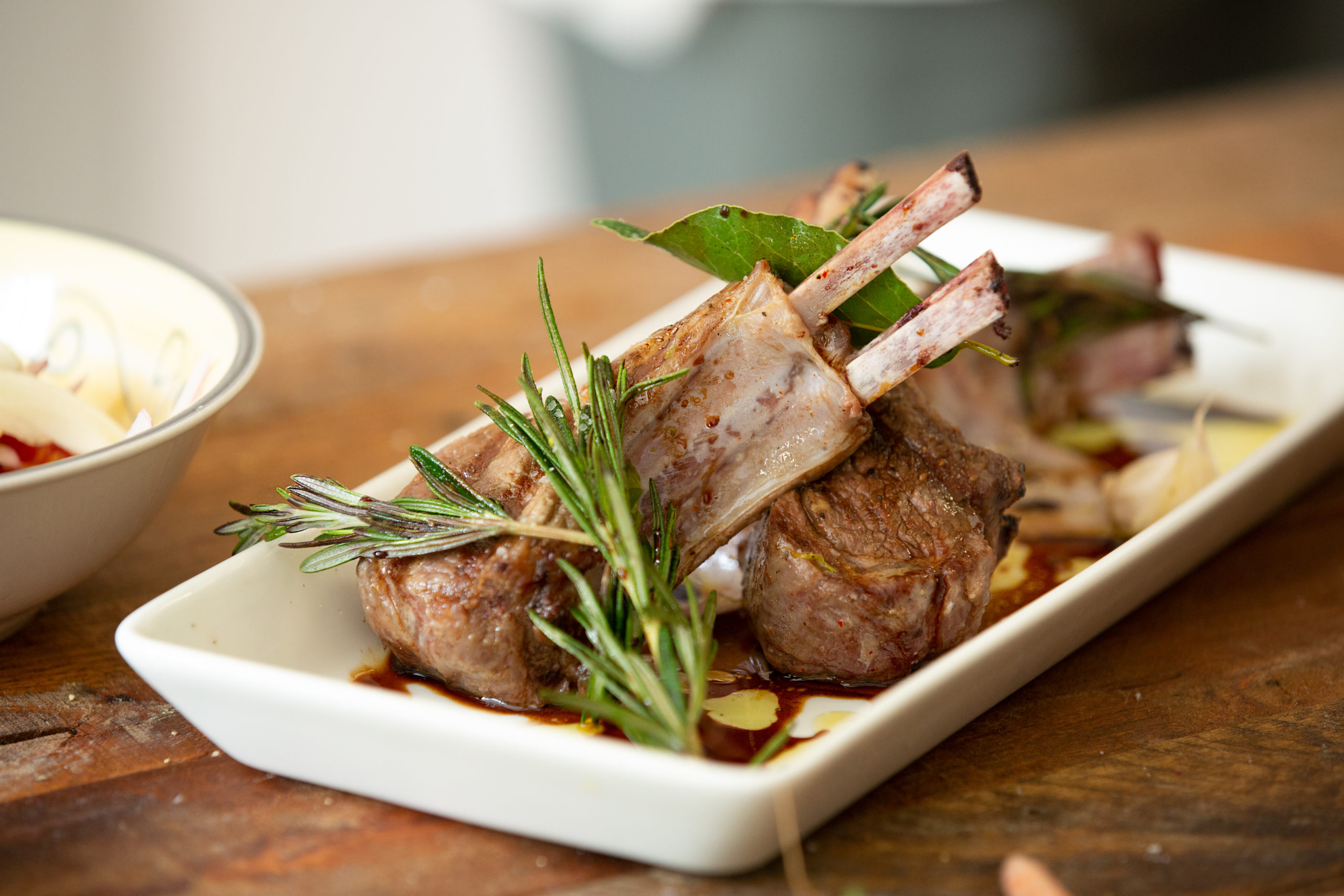 Lamb is a quintessential Easter staple in Puglia, so we thought this was the perfect simple recipe to share! We hope this can help you impress family and friends this Easter
(or
all year long)! In Pugliese cuisine, it is all about fresh and flavorful ingredients, prepared simply, to create something beautiful and delicious! 
Serving Size:
1-3 people  -
Prep Time:
20 mins -
Cook Time:
20 mins 
Rose Wine or wine of your choice 
Apple Cider Vinegar or vinegar of your choice 
Directions:
For the Marinade: 
Smash 4-5 cloves of garlic with your hand or a knife, set aside. Cut off the bottoms of the celery stalks and chop. Cut the red onion in half, set other half aside. 

Place the lamb chops in a large mixing bowl, add the smashed garlic, bay leaves, chopped celery, rosemary leaves, red onion and peperoncino. Sprinkle with salt and pepper to taste. Drizzle with olive oil, and rose wine, enough to cover the bottom of the bowl. Mix up the entire mixture in the bowl with tongs, making sure the lamb chops are completely coated.  

Put in the fridge for at least 2 hours to marinate. You can marinate overnight if you would like as well. 
For the Vinaigrette and Salad: 
Pour about 1/4 cup of apple cider vinegar in a small mixing bowl. Drizzle honey in the bowl, about 2 tablespoons worth. Mix it up so that the ingredients are a smooth mixture. 

Chop the head of fennel and half of red onion into slices, then cut tomatoes into quarters and place in medium mixing bowl. Chop mint finely and sprinkle on to salad. 

Add salt and pepper to taste. Drizzle vinaigrette on top of salad and toss so that everything is nicely coated. Set aside. 
For the Lamb Chops: 
If using a table top grill use high heat, so that the grills are almost smoking. If using an outdoor grill use discretion on temperature. 

Place the lamb chops on the grill face down for approximately 2 minutes to get a sear. Flip to the other side, and cook for approximately 3 minutes for a sear on both sides. 

While it is cooking you can dip the rosemary springs in the extra marinade and spread on the lamb chops to keep them juicy. Place the onions, garlic, bay leaves and rosemary on the grill for the last few minutes. Turn and get a sear on the side of lamb chops for one minute. 

Take off and let the lamb chops rest for a ten minutes. When you are ready to plate, place the lamb chops on a plate, add grilled vegetables and herbs, drizzle with olive oil and mosto cotto. Plate the salad, and enjoy!