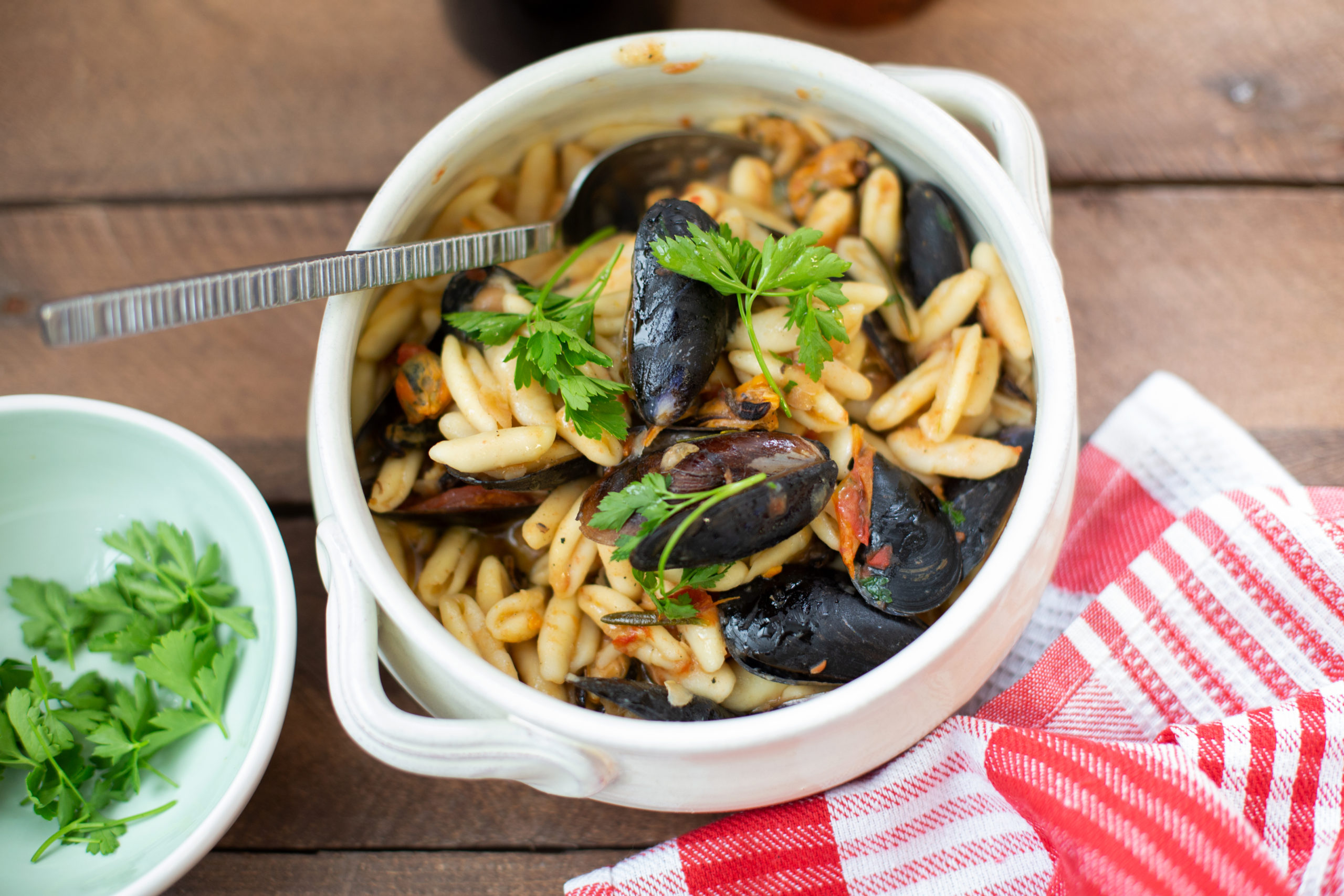 One of Puglia's greatest treasures is its coastline. Yes, there are some of the most beautiful beaches in Europe there, but a beautiful coastline also means delicious seafood! This traditional dish is a great mix of land and sea, and allows you to create a true Pugliese experience right in your own kitchen! Prep Time: 5 mins ~~~ Cook Time: 40 mins ~~~ Serving Size: 4-6ppl Ingredients:
Extra Virgin Olive Oil
2 Tbsp Parsley
Salt to taste
Pepper to taste
1lb of Mussels
3 cloves of garlic, crushed
1/2 cup of White Wine ( or Rose if you prefer that!)
1 bag of Cavatelli
1 can of Cannellini Beans or 1 1/2 cups of dried Cannellini beans
1 jar of Spaccatella di Pomodori
Directions:
Start by crushing the garlic cloves and chopping the parsley.
In a pan, add the Extra Virgin Olive Oil, salt, pepper, and crushed garlic. While these are sautéing. Put a pot on to boil water.
Let this olive oil mixture simmer for a few minutes. In the meantime, rinse off the mussels, making sure they are clean and ready to go into the pan.
Next, add the mussels into the pan, pour the white wine in with the mussels, and stir until everything is mixed well. Cover and allow the mussels to simmer and steam for approximately 15 minutes.
Once the mussels are done, uncover and start separating the mussel meat from the shell, keeping the mussel meat in the pan. Be sure to save some of the shells to flavor the sauce.
In the same pan that the mussels are in, add the pomodori, cannellini beans, and extra shells back in. Allow to simmer for approximately 15 minutes. Let it start to bubble, and stir every few minutes.
Once the water has boiled, add the cavatelli and let cook until al dente, approximately 5-10 minutes.
When the cavatelli is done, strain and add directly to the pan with the mussels and sauce. Mix well so that each piece is coated with sauce.
Sprinkle the parsley on top and mix again. Then you are ready to serve!
Check out the step by step video below!