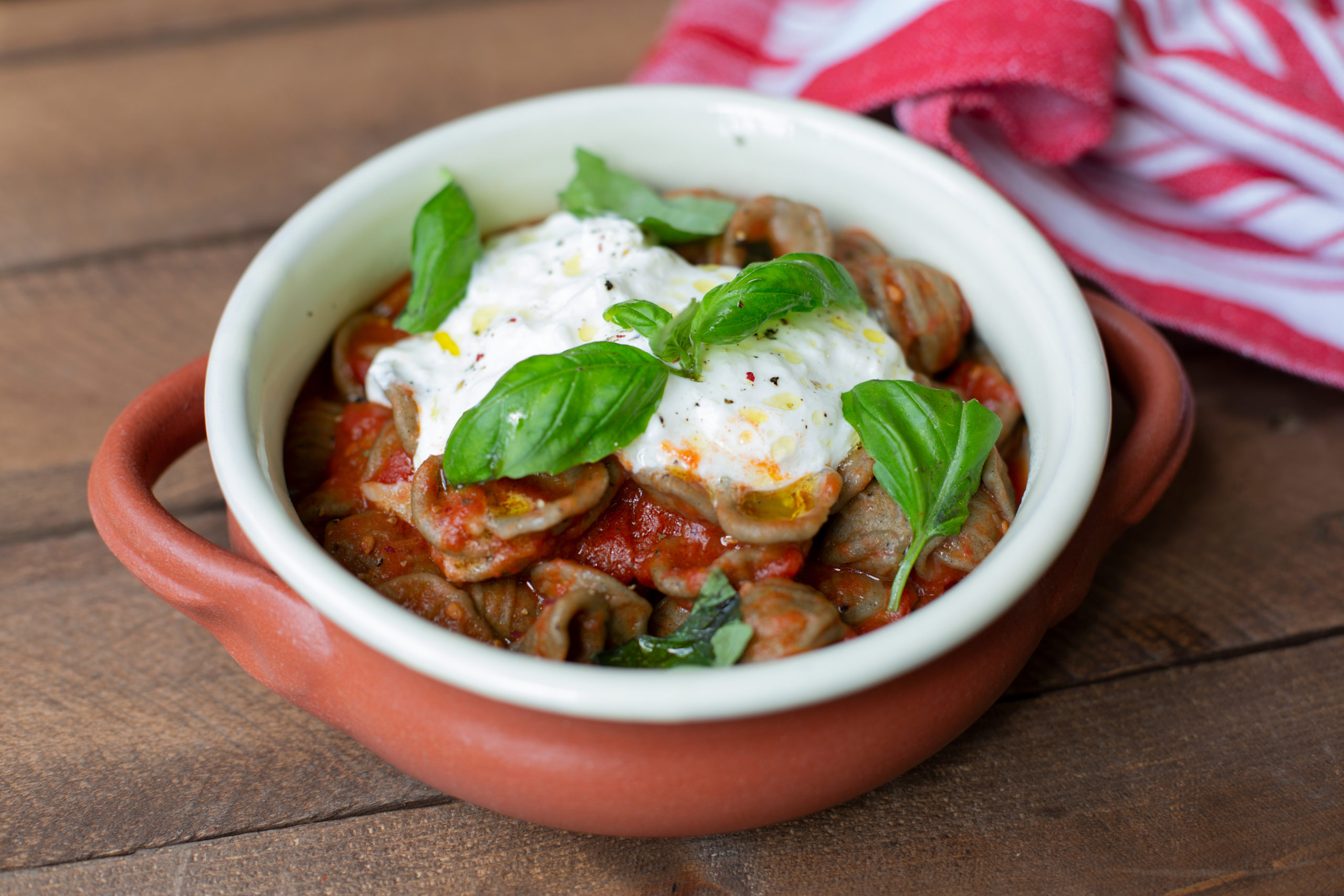 Orecchiette di Grano Arso is a type of pasta that Puglia is known for, made from toasted durum wheat, which gives it it's darker color. It has a lot more flavor than your average pasta through this process. That's why it doesn't require a lot to pair with it. This dish is perfect for anyone who is looking for a delicious dish to wow your (at home) "dinner guests" because it is so beautiful, but doesn't require a lot of ingredients or time. Enjoy with whoever you are quarantining with right now! 
Prep Time
: 5 mins ~~~
Cook Time:
40 mins ~~~
Serving Size:
4-6 ppl 
Ingredients: 
3 Tbsp Extra Virgin Olive Oil 

A small bunch of fresh basil

Cherry Tomato Sauce - Passata Artigianale 

Salt to taste 

Pepper to taste 

1 or 2 Fresh Burrata  

1 bag of Orecchiette di Grano Arso 
Directions: 
Add the Extra Virgin Olive Oil, fresh basil, salt and pepper, and cherry tomato sauce to a pan. Allow to simmer for about 20 mins, stir occasionally. 

While the sauce is simmering, put water on to boil, once it is ready, add the orecchiette, allow to cook until al dente, approximately 5-10 mins

When the orecchiette is ready, strain, and add directly to the pan with the sauce and stir. 

While still on the heat, mix the pasta and sauce allowing the sauce to coat each piece of pasta. 

Next add the pasta to bowls for plating. 

Take out the fresh burrata, cut the burrata in half and scoop out the stracciatella. 

Add a nice spoonful of stracciatella on top of each bowl of pasta, garnish with fresh basil, drizzle with extra virgin olive oil, and enjoy! 
Shop with Especially Puglia 
Follow along with the recipe video Below!