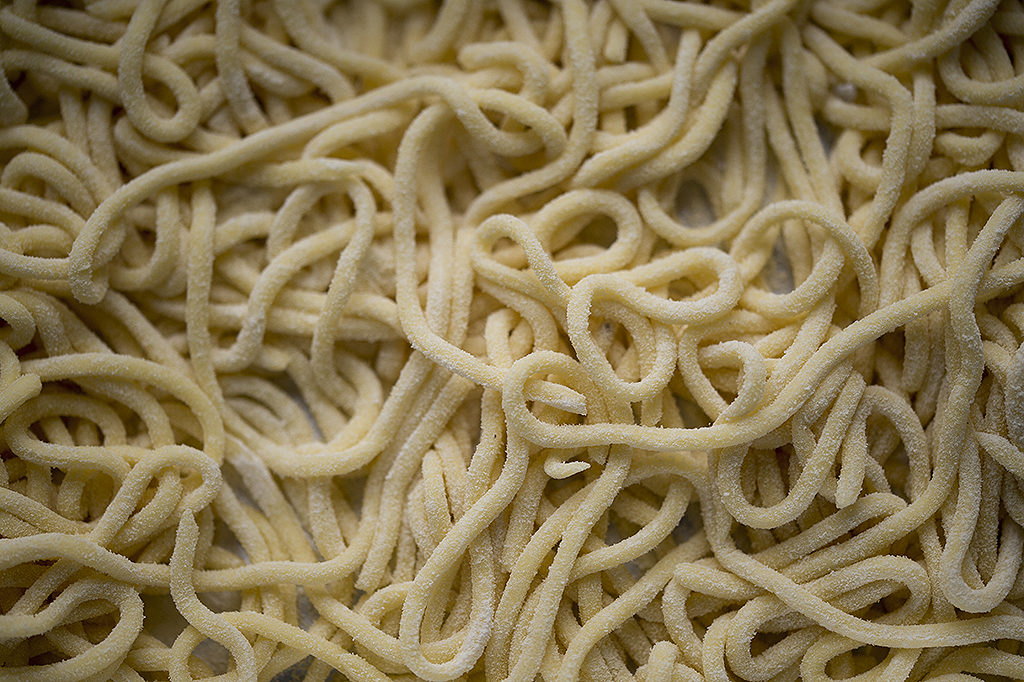 Have you ever wondered how to make beautifully long and thin pasta shapes at home? Cooks in Puglia use a kitchen tool called 'chitarra' or "guitar" in Italian. The tool is named such for the long wires that stretch across it in even increments. These wires will cut pasta dough into perfect strands as the dough is pushed through them. The wires on either side of the chitarra are spaced differently to make different pasta widths. One side will make a fettuccini shape, and the other side a troccoli shape.
If you haven't heard of troccoli, listen up! Troccoli are a traditional Pugliese pasta shape, especially popular in the Foggia province. They look similar to spaghetti, but are thicker with a square cross section. This makes them a bit more rustic and chewy than spaghetti, perfect for so many sauces. Traditional Pugliese recipes combine the troccoli with meat sauce, walnut sauce, or a cherry tomato and ricotta dura sauce (you can find our recipe for that HERE)
Use the following recipe to make troccoli at home!

PASTA DOUGH RECIPE
Serves 4
Ingredients:
400g semolina flour

4 eggs

A pinch of salt

Water as needed
Method:
Sprinkle flour over a large wooden cutting board or other smooth, clean surface.

Place the semolina flour on the flat surface and create a cavity in the center. Add the eggs to the center of the cavity.

Start to work the flour into the eggs and continue to massage the pasta until you have a dough. You will need to work the pasta for about 5 minutes.

Place the pasta ball under a piece of cloth so it doesn't dry out.




Divide the dough into 4-5 small pieces. While working with each piece, set the others aside underneath a kitchen cloth. Flatten the pasta with a rolling pin until it measures 5mm thick.

Place each rectangle of dough on the chitarra and press it through with a rolling pin so that the wire strings cut the dough which falls through as so called "troccoli" pasta. Place the strands on a tray and add a little flour to keep them dry and separated. Cover and continue this process with the remaining dough.





Purchase your chitarra pasta cutter from our online shop!