The best way to eat a vegetable is to pick it at its peak ripeness, when it is full of flavor and packed with nutrients. Farmers have known this in Puglia for generations. They have developed a technique that keeps the flavor of a perfectly ripe vegetable all year-long. The preservation method, known as sott'olio meaning "under the oil", preserves some of the most delicate vegetables – artichokes, mushrooms, asparagus, olives – in extra virgin olive oil.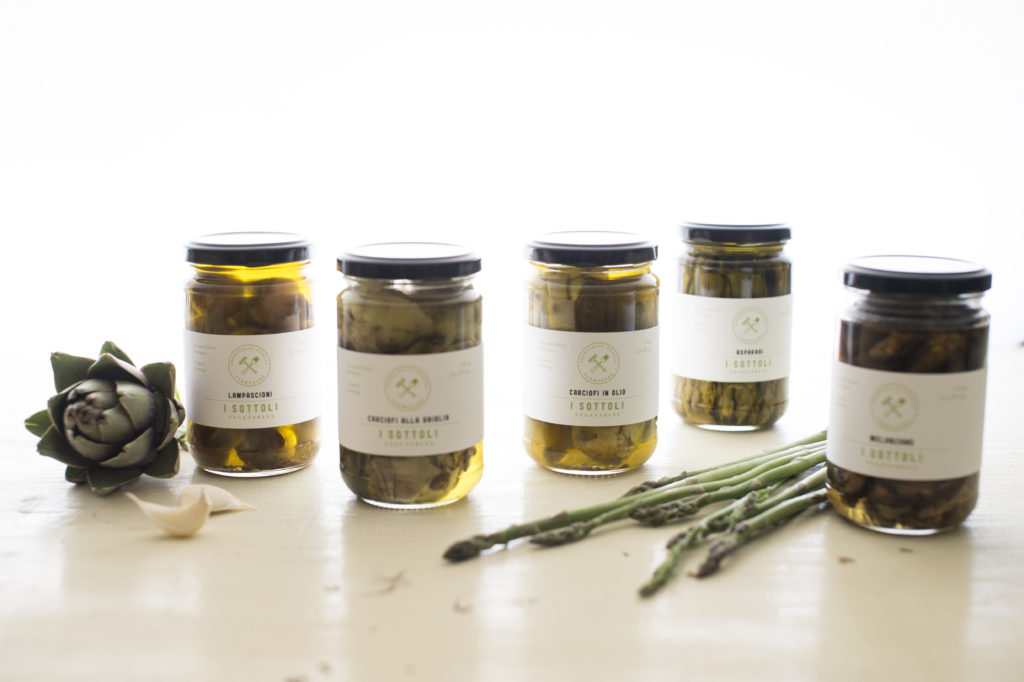 From start to finish this Pugliese style of preservation takes several days from harvesting to the final drip of olive oil. The result is a delectable side dish served year-round across the region.
How the Sott'olio Method Works
Every family has their own recipes for sott'olio in Puglia, but the process starts the same. At the peak of ripeness, farmers go out to the fields to harvest the vegetables. Many commercial brands do not use fresh vegetables; rather they use semi-preserved vegetables, which diminishes the flavor and quality of the final product. In Puglia, farmers take the ripe vegetables indoors to be cleaned and prepped for the cooking stage.  The vegetables are then boiled in white wine vinegar until they are cooked al-dente. They are then cooled to room temperature and tossed with salt and a mix of spices such as black pepper, chili pepper, garlic etc. This is where every family differs, with recipes transferred from generation to generation.
Once the vegetables have absorbed the flavors they are packed into jars, and covered with extra virgin olive oil. Olive oil acts as a natural preservative by keeping air away from the food, which is the source of spoilage. Unlike many commercial brands, that use cheaper oils like sunflower, Especially Puglia's sott'oli is made with extra virgin olive oil. This ensures it has healthy benefits and keeps the natural flavors of the vegetables intact.
For a Puglia family, this is where the process would end, and they would enjoy vegetables for the rest of the year. To commercially sell sott'oli, a special technique to pasteurize the product is used to keep the integrity of the extra virgin olive oil as well as the flavor of the vegetables. The end result is a lovely vegetable, preserved in delicious olive oil.
Eating Sott'oli Style Vegetables
Sott'oli are delicious on an antipasto platter, as well as a side dish to a lovely fish or roast dinner. Olive tapenade or artichoke tapenade are perfect on top of toasted bread, as a bruschetta.  Less traditional, but just as delicious, is using the sott'olio vegetables in salads, using the olive oil to make a delightful dressing. The vegetables, prepared in this method will keep for up to two years if stored in a dry, cool place.
Where to Find Sott'olio Vegetables
Especially Puglia's winter Farmshare includes asparagus and artichoke sott'olis as well as the artichoke and black olive tapenade. These high-quality traditional sott`oli vegetables are hard to find outside of Puglia. Sign up for your Farmshare now and enjoy these savory Pugliese delights.