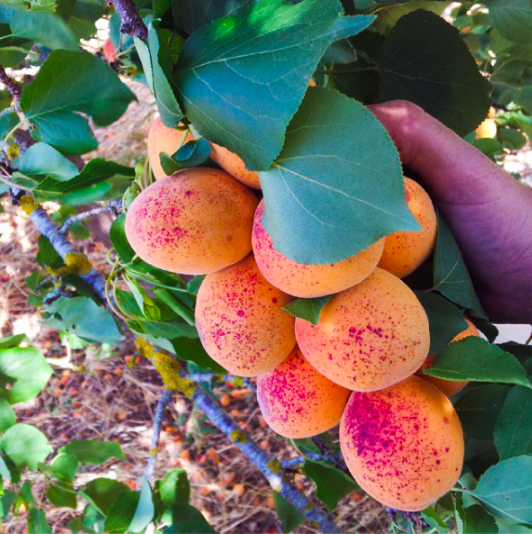 Apricot season is in full swing this time of year in Puglia, so we thought we'd share a little bit about them! Apricots from this region aren't your everyday variety, The Apricot of Galatone is something special. Puglia is known for it abundance of tasty produce, but the history behind these products isn't as well known. 
History of the Apricot
Apricots most likely hail from North-Eastern China near the Russian border, but Alexander the Great found them in Armenia where they are still considered a traditional fruit. Greek physician, pharmacologist, and botanist, Pedanius Dioscorides, called the fruit "armeniakòn milon," or apple from Armenia. The name 'apricot' derives from the Arab "al-barquq" meaning plum. Today, apricots are produced widely across the Mediterranean, Eurasia, the United States, and Australia.
The story of the Apricots of Galatone are lost in the legends of the Knights Templar who brought it to Salento on their way back from the East. This variety (known as "arnacocchia" in the local dialect) is smaller than the common variety and is characterized by dark spots near the stalk which, according to local legend, were painted by St. Luke.
The Apricot of Galatone
The Apricots of Galatone are the only native apricot variety from Puglia. It nearly disappeared due to agricultural industrialization, but it's now protected by a Slow Food Presidium. The Apricot of Galatone trees, like many ancient varieties, can bear fruit longer than more common varieties. Some can even keep bearing fruit for over 50 years!
According to local farmers, this is thanks to the tradition of grafting plum and bitter almond onto the trunks of the apricot trees.  In the countryside of Galatone, there's even tale of an 80-year-old tree that still becomes golden with apricots every summer. The Apricots of Galatone are known for being sweet and soft. You can eat the fruit on its own, or enjoy its jam on bread or in cakes.
By: Antonio Caso