Especially Puglia's Thanksgiving Feast: An Italian Twist on Tradition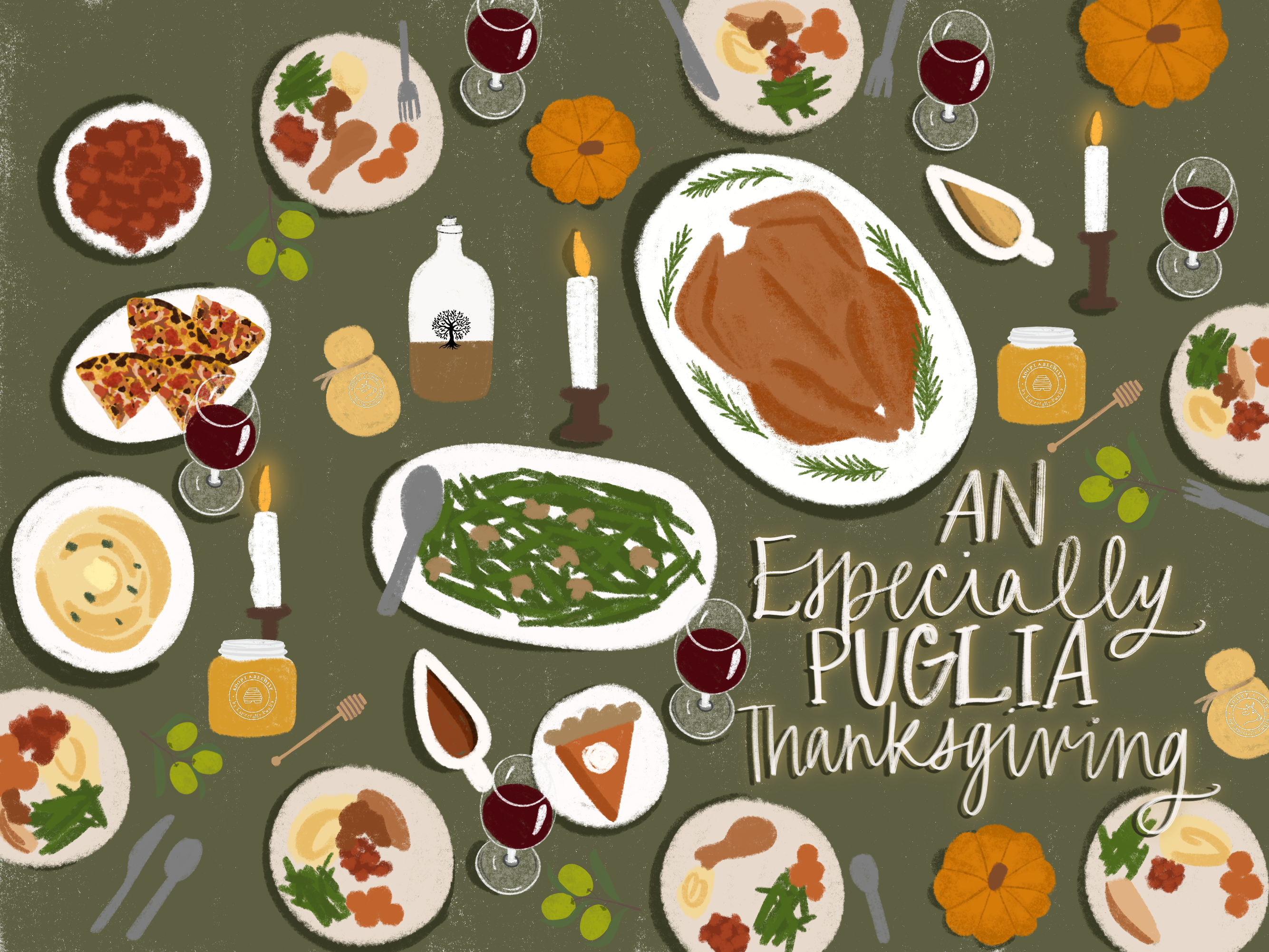 As we approach the season of gratitude and togetherness, we want to help you infuse a little Italian flair into your Thanksgiving celebration. It's time to Italian-ize your American Thanksgiving menu and create a feast that pays homage to both traditions. Here are some recipe ideas that incorporate the rich flavors of Puglia alongside your Thanksgiving favorites:
Pugliese Focaccia Stuffing 
Upgrade your traditional stuffing by using focaccia in place of bread. Combine it with our extra virgin olive oil, fresh herbs, sun-dried tomatoes, and a touch of Pugliese pecorino cheese for a Mediterranean twist on the classic.
Especially Puglia Honey-Glazed Turkey
Enhance the flavor of your Thanksgiving turkey by glazing it with our honey. The unique notes of our honey will add a delightful sweetness to your turkey, making it irresistibly delicious.
Fave e Cicoria - Fava Bean and Chicory Greens
Puglia is known for its hearty fava bean dishes. For a unique Thanksgiving side, try Fave e Cicoria. Sautée fava beans and chicory greens in extra virgin olive oil, garlic, and red pepper flakes for a healthy and flavorful addition to your table.
Read about it here: https://www.especiallypuglia.com/general/fava-beans-and-chicory-an-ancient-combination/
Torta di Ricotta - Ricotta Pie 
For dessert, indulge in a Torta di Ricotta, a delightful Pugliese-style cheesecake. Made with creamy ricotta cheese, lemon zest, and a touch of Especially Puglia honey, it's a sweet ending to your Italian-inspired Thanksgiving.
Puglia Wine Pairings
Don't forget to accompany your meal with a selection of Pugliese wines. We recommend trying a bottle of Susumaniello, which is full-bodied, rich, and ruby red. The perfect complement to your Turkey Day feast.
--------------------------------------------------------------------------------------------------
Wishing you a Thanksgiving filled with love, laughter, and the delicious fusion of Pugliese and American flavors.