The white and gleaming Locorotondo is certainly one of the most fascinating and unique places in Puglia. Its high position and its "terraces" offer unforgettable views on what can be defined as the most beautiful countryside of Puglia—the bucolic Itria Valley, dotted with trulli, farms, olive trees and dry stone walls. After Locorotondo we will visit a typical small cheese farm and taste mozzarella and burrata. We will head to Polignano a Mare. Perched on a high rocky outcrop that reaches into the Adriatic Sea, Polignano is a destination not to be missed on a trip to Puglia.
Visit the scenic countryside town of Locorotondo
Visit a Cheese Farm and taste fresh mozzarella and burrata
Visit the town of Polignano a Mare overlooking the Adriatic sea
Transportation for the day, to and from your accommodation
Guided tour of the cities of Locorotondo and Polignano a Mare
All costs at the cheese farm including full cheese tasting
Meals
Tips for your guides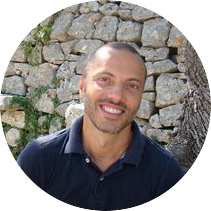 Michele started his professional career as an attorney, practicing law throughout Europe, but during this time he was constantly traveling and discovering new places. This is when he realized that traveling and learning about new cultures was a deep passion of his. When he discovered beautiful Puglia, he fell in love with the region and never went back. He now partners with other likeminded tour operators bringing guests all around Puglia to experience the rich culture, landscape, history and people that make the region so unique. 
Where you'll find yourself