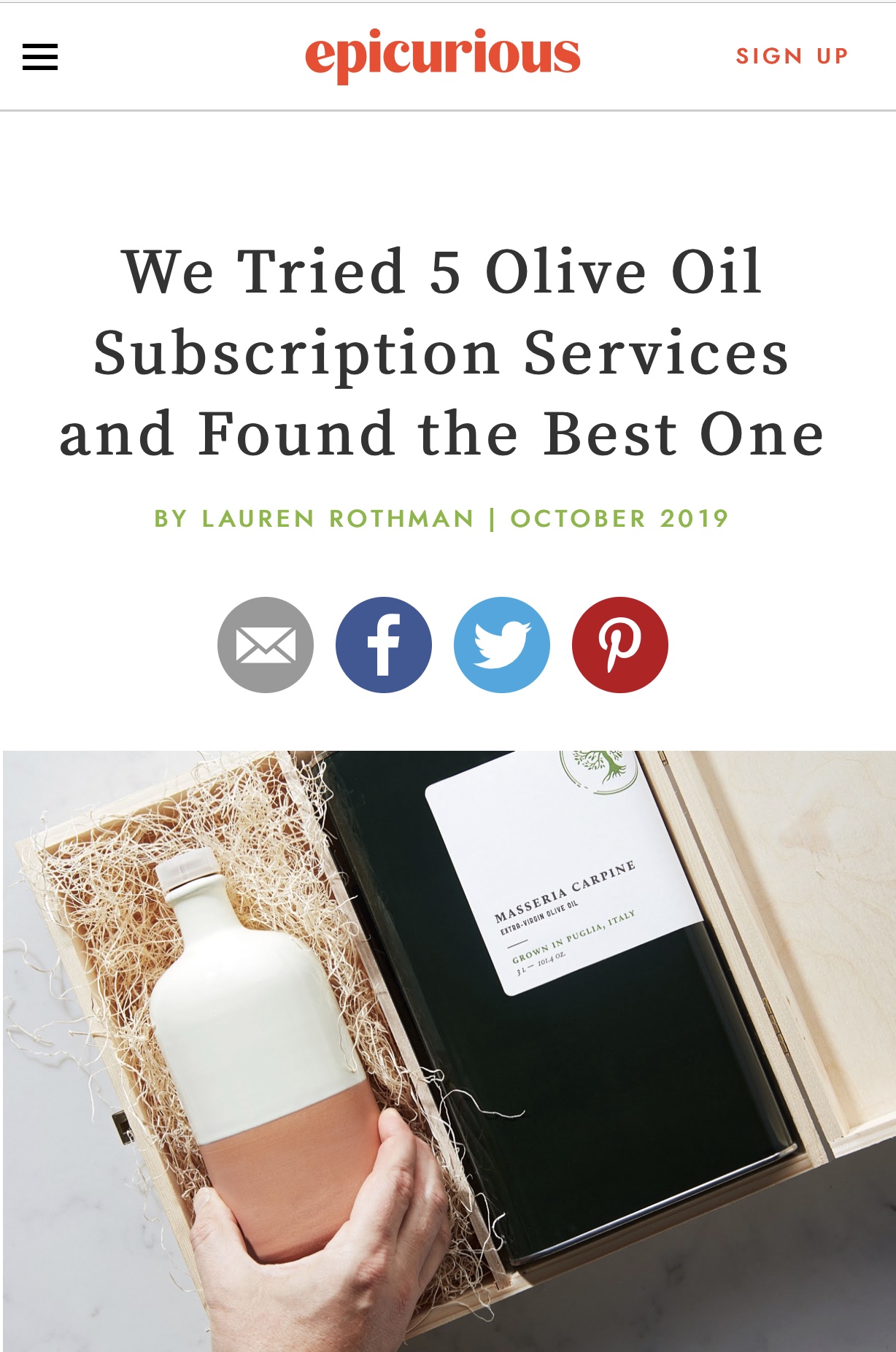 Yotam Ottolenghi once said, "The combination of olive oil, garlic and lemon juice lifts the spirits in winter", and we couldn't agree more. This winter season, we hope to lift your spirits (or the spirits of someone on your holiday list) with the gift of single-harvest, extra-virgin olive oil. The holidays are a time for feasting, cooking and relishing moments with family and friends. You may find yourself spending more time in the kitchen carefully crafting the perfect dishes, and the right olive oil can offer just the right subtleties and nuances to turn your home-bakedbread, roasted carrots or a delicate parmesan-kissed salad into a triumph.
As this is the time to give thanks,we at Especially Puglia are incredibly thankful that Epicurious has voted us the Best Olive Oil Subscription for 2019. You can read the rave review here, along with some delicious recipes that pair perfectly with our single-harvest extra virgin olive oils.We are honored by Epicurious' write up, and we're even more honored that you want to bring the magic of Especially Puglia to your home. Making olive oil is a source of joy for our organic farmers and this culinary joy can be carried over to your family and friends this holiday.
Always a last-minute shopper? Not sure what to buy the chef that seems to have everything? We're offering up an olive branch to you…quite literally. Olive oils are a kitchen staple; however, the choices in supermarkets seem endless and the qualities range greatly. Leave the guesswork to the experts. Here at Especially Puglia, we take great pride in bringing you directly to the source of the finest extra virgin olive oils from family-owned organic farms in Puglia, which is home to roughly 60 million olive trees.
The finest foodies and home chefs need the finest tools. While you might not be celebrating Christmas this year on the Mediterranean coast, you can still bring a delicious piece of Puglia with you through our olive oil subscription. There are many ways to give the gift of Italy this season. We offer two different gift boxes that include 3-liter tins of olive oil. You can also choose to include a one-year subscription (just perfect for the epicurean expert in your life who is serious about good olive oil).
Let the red wine flow, enjoy delicious food under the glow of twinkle lights, and savor the memories while savoring the last bits of warm crusted bread soaked in our olive oil. It might just be the closest thing to heaven on earth.
Happy Holidays from our family at Especially Puglia to yours.